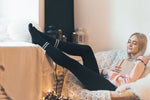 We've all been guilty of it. Whether it's dropping the kids off to school, attending a business lunch or even having after hour drinks we've all worn leggings outside the gym. In fact, performance wear has become everyday wear for women of all ages. Can you blame us? Leggings are perhaps the most comfortable articles of clothing in you're wardrobe. 
Whether you've decided to pair them with cropped t-shirt and denim jacket or throwing a scarf and trench jacket over them, it's now acceptable to wear them everyday and all day. Nowadays, women shop for performance wear thinking of how they can transition it from the gym to the streets. In case you didn't know, here are the five golden rules for wearing athleisure wear in everyday life:
Purchase Pieces That Mix Fashion and Function
Opt for leggings that are made from performance fabric. Performance fabric is a durable material that's too see-through. So you won't be able to see cellulite through it and it won' t give you an embarrassing muffin top. The biggest benefit of selecting leggings and workout gear that's made from performance fabric is that it is moisture-resistant and it's guaranteed to keep you dry after your sessions and all-day wear. 
Follow Seasonal Trends
Ten years ago, the fitness industry didn't have any type of trends now it' s all seasonal. From mesh panels, cutouts and color blocking activewear styles vary based on the season. If you plan on keeping your leggings on after the gym then it's important to embrace the trends so that you always look good.
Don't Be Afraid to Accessorize
It only takes one piece to transform a gym outfit into something that easily transitions for street wear. For instance, a pair of mirrored sunglasses and a leather jacket instantly gives off a sporty and sexy look. Don't be afraid to experiment with different accessories to create the look you desire. 
When in doubt select neutrals
If you're having trouble deciding between a vibrant pair of leggings that make a statement and something simple you should choose neutral colors. Hues like black, gray and brown never go out of style. If you want to experiment with colors or patterns start off with a simple geometric print. 
They Should Make Your Butt Look Good
Of course, embracing body sculpting leggings that accentuate your natural curves and gives you an added boost in the booty department is always of your best interests.  You should have at least one pair of booty scrunch or butt lifting leggings in your wardrobe.