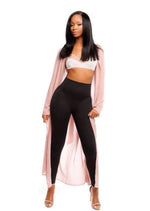 Best Leggings ever, are one of the most comfortable wardrobe pieces you can own, and they are incredibly versatile too. They can be dressed up or down, and they are great to layer with as well.Here are our 8 most favorite ways to wear leggings.
1. With Statement Heels
This first look is great for a night out on the town, and it's incredibly easy to pull together. Simply grab a set of statement heels and pair your favorite body contouring black leggings with a long sweater.
2. With Flats and a Turtleneck
Stay warm on chilly winter days by pairing leggings with a long, cozy turtleneck. Flats look great with leggings too, especially unique ones.
3. Athletic Look
Leggings can also easily be dressed down and given more of an athletic look.High waisted leggings and scrunch butt leggings are always a good pick because it helps your butt look better!
4.Underneath Over-The-Knee Boots
Over-the-knee boots are another type of footwear that works well with leggings. The tightness of the leggings allow the boots to fit nicely, while the black color lets the bright boots shine.
5.As Maternity Pants
Leggings are also a great maternity look. Comfort is usually a priority for pregnant women, and leggings can be just as comfortable as sweatpants or pajamas.
6.Under Skirts
Leggings are also great layering options underneath skirts for days when the weather might feel a bit too chilly for just tights. You might also consider a color other than black to spice up a monotone outfit.
7. Denim Jacket
An all black outfit runs the risk of looking rather boring, but the addition of a super cute cropped denim jacket gives it a stylish, memorable look.
8.With A Statement Coat
And last but not least, this look is sure to wow passersby. A pair of black leggings is combined with a lovely rosy pink colored statement jacket, along with calf-height boots and a cozy cabled scarf.