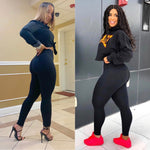 Let's be honest, although leggings are probably the most comfortable article of clothing that a woman can own it's also a very tricky piece of clothing. Over the past couple of years, we've seen our favorite celebrities sport them in lieu of pants everywhere from grabbing a cup of coffee at Starbucks to attending an event. If you're looking for a pair of leggings that you can transition from wearing throughout the day to wearing out on the town you'll want to invest in a quality pair.
Here at Best Leggings Ever we've created a premium quality legging in different styles including - the booty scrunch and booty lifting leggings.  When styled correctly you can wear virtually anywhere. Want to know how to stylishly pull off a pair of leggings without looking as you've just crawled out of bed? We're going to show you how.
Wear A Cool Piece of Outerwear
While leggings can be dressed up or down, essentially it is a piece of athletic wear.  Therefore, opting for an interesting piece of outerwear such as a distressed jean jacket, a colorful windbreaker or a bold leather jacket. A cool jacket or coat is guaranteed to be an eye catcher while your leggings will be a complimentary piece.
Skip Out on the Flip Flops
If you're going for a more dressier look than you'll want to skip the flip flops and slides. If you're going into the office, or you have a dinner date pair your leggings with a pair of loafers or riding boots for a polished look. Ballet flats are also a great option.
Throw On Your Favorite Sneakers
Going for a casual look on while shopping on a Saturday afternoon? Throw on your favorite pair of sneakers for a super chic yet casual look. Bold-hued sneakers look even better against a black pair of leggings.
Pop On A Blazer or Sweater
If you work in a corporate environment then you'll want to pop on a blazer over a long button up or dress shirt when wearing the Best Leggings Ever premium leggings. The blazer shows true professionalism. You can also layer with a long dramatic sweater or cardigan. If you have a nice shirt that you think looks amazing with your leggings but you're not comfortable wearing it alone consider throwing a cardigan on top of it. Oversized sweaters are super comfy when paired over leggings and they look great especially when you wear them with a pair of booties.