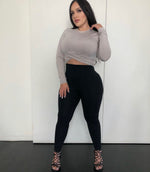 As comfortable as leggings are, the truth of the matter is that they are not always flattering. That's why most fashion experts will recommend that you save the leggings for your days off or encourage you to only wear them to the gym. These days there are so many different styles of leggings on the market that can complement any body type. Whether you're interested in wearing leggings to a dinner date, to work or out of friends then you'll definitely need to choose the right type of leggings that flatter your body.
Slim and Small Figure
If you are short and have a slim figure, leggings that will best fit your body type are slim fit leggings that are cropped at the body. These type of leggings don't necessarily hug the body, but you won't feel as if you are drowning in them. The crop effect at the bottom that stops right above the ankle, helps give your short stature a bit of definition. Also, cropped leggings are an ideal option because you won't have to worry about all that extra fabric that bunches up towards your ankle. Leggings with a scrunch at the ankle is also a good purchase.
You can further enhance your figure by investing in
Best Leggings Ever
booty
scrunch leggings.

in
 that lift the dierre and accentuate the curves you have.
Short and Curvy
Your curves are beautiful and the leggings you purchase should properly show them off. Then you'll want to select a cropped legging with a pair with a scrunch at the bottom. Whatever style you choose should utilize some form of sculpting technology. Body contouring leggings use compression which helps smoothen out your problem areas like your tummy and thighs. In addition, it provides your curvy body with a seamless look that allows your figure to shine through. A higher waisted legging can provide support and helps extend your torso for a slimming effect.
Slim and Tall Women
It can be difficult for women with height on them to find clothing items that don't fit like high waters. Fortunately, leggings are made from a stretchy material which means that it will be much easier to find you appear that fits properly. Perhaps the best type of leggings for leggy women are high waisted.
High waisted leggings
are typically designed with extra material and are longer in general. Flared yoga pants are also ideal for taller women. Not only are they super comfortable but they emphasize your long legs.
Curvy and Tall
Opt for soft and stretchy leggings. Not only do these type of leggings conform to your shape but they provide a comfortable. They should have a top, flat waist brand which will provide support in your tummy area without making it difficult to move around. It is important to choose quality leggings that are not see through but made from thick and supportive material.
Do you have those perfect pair of leggings that you can wear almost anywhere? Now is the time to purchase a few couple pair of leggings that flatter your body type so you'll always have something you can throw on at a moment's notice.