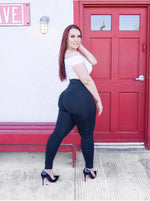 For years, leggings have been associated with athleisure wear. Yet, this stretchy, ultra comfortable piece is much more than something you throw on for the gym. In case, you didn't know leggings are a staple in women's wardrobe because they are versatile which means that they can be dressed up for any occasion. If you're having trouble thinking of some cute outfit ideas:
Throw On A Blazer and Heels
Have an important boardroom meeting? Or perhaps you've got a big interview coming up. Throw on our jet black leggings with a formal shirt and a long line blazer. You can opt for a crisp white button-up shirt or a dressy top with tailored details. If you add some heels and a few accessories and you'll be office ready.
Leather Jacket and Heels
Going out with the girls on Friday night?  If you're going for a bold and edgy look than pair our booty scrunch leggings with a quality leather jacket is the way to go. To make your outfit stand out you'll want to go bold with the shirt you select. A floral print top, a cut out short or a tee shirt with a bold proclamation are some great outfit ideas. To top the whole look off don't forget your favorite pair of heels. Tall boots that go all the way up your legs are sexy but so are a pair of stilettos.
Trench Coat and Leggings
Let's be honest, trench coats never go out of style. Trench coats have been a stylish piece for ages. This ominous look is perfect for the night time since it's sleek and sexy. You can pair our solid black leggings or a pair of leather leggings with a trench coat and heels or tennis shoes if you are planning on taking a walk.
Leggings with A Summer Dress
Want to wear your favorite summer dress in the winter? Throw on a pair of plain black or floral printed leggings. No doubt, dresses are super chic, stylish and when worn with leggings they can be warm and super comfy.
Oversized Sweater and Leggings
Who doesn't love a comfy oversized sweater? A big sweater paired with black or even printed leggings is a great casual look. Pair the sweater with high heels takes the look from casual to chic and dressy.
Let your leggings be your go to when it's time to get dressed for a special occasion.