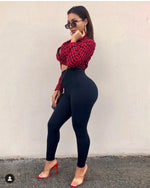 Why high waisted leggings are here to stay???
The answer is obvious and simple, Because high waisted leggings are girl's best friend.They are an extremely all around popular  wardrobe peace.Whether you are going to the gym or going out to dinner leggings, when paired with the right pieces, can make a great outfit.
We've all had that moment during a run or workout class,your leggings are just NOT fitting properly. Whether you have to pull them up after every burpee or readjust the rolling, pinching waistband constantly, you know how distracting it can be when your gear doesn't let you do your thing. The solution is simple! High waisted Leggings are the BEST LEGGINGS EVER!!
They make up for every legging issue you've ever had. The smooth, high-rise waistband ends where your tummy is smallest, which fixes that cinched, muffin-top feeling and keeps them from rolling down. In addition they make your legs look sexy-long and accentuate your waist, making your butt look lifted and firm. Without a doubt high waisted leggings are BODY CONTOURING LEGGINGS so they're super flattering on basically any body shape.
Most of us are under the illusion that only women with buns of steel and thighs to match can pull off a pair of leggings. Not true! If you wear them well, style them with balance, and do it with confidence, a woman of any age, and with any body type, can look great in them.