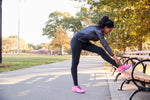 What are you wearing in the gym? When it comes to having the right workout gear there's nothing like a great pair of functional leggings. A good pair of workout leggings should be durable and last for a couple of years.  If you are in the market for a new pair of workout leggings it's important to make a wise decision because a quality pair of leggings serves as the foundation of the workout ensemble.
Get the Right Fit
The last thing you want to worry about when working out is your wardrobe. Therefore, it's very important that when shopping for a pair of workout leggings that you get the right fit. Purchasing leggings that are a size too small will be uncomfortable to workout in. On the other hand, if they are too big the excess fabric can be a pain to deal with. It's also best to avoid leggings that bunch up at the knees or the ankles because they tend to get worse over time.
Opt for a high waisted legging that provides ultra support. To determine whether you've got the right fit, try putting them to the test. When trying them do a few basic squats. If the waistline creeps down your hips this is a sign that you've got the wrong fit.  If the seams are pressing into your stomach than they are probably too tight. At Best Leggings Ever we have leggings that can accommodate any body shape including plus sizes.
Get The Right Fabric
How a legging feels against your skin is just as important as how it fits. Spandex is the most common legging material on the market. Elastane is another stretchy material that is also durable. Stretchy and durable are two important attributes you'll want in a good pair of workout leggings.  Material such as polyester and nylon release moisture quickly which makes them ideal for working out in since you'll likely be sweating. Cotton, wool, and bamboo are all natural fabrics that are comfortable and will keep you feeling dry during your intense workout sessions.
Highly Functional
Of course, the right pair of workout leggings are highly functional. You'll be able to perform any kind of workout in them such as cardio, weight lifting, and stretching. When you feel comfortable in your workout leggings you'll perform much better in the gym. So why not invest your hard earned coins in the perfect pair athletic leggings.