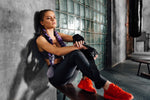 Whether you're hiking trails, running on the treadmill or doing hot yoga, having the right type of athletic wear will make your workouts go much smoother. In recent years, active wear has become so popular that there is a wide range of new styles, patterns, and colors that cater to all body types. Although, there are many choices available, not all workout leggings are made the same. How can you be sure that you're picking the right pair that will support your workout regimen?
Fabric Shouldn't Be An Afterthought
If you're like most women, you spend more obsessed with the print of the leggings and how it looks on your body rather than the material that it's made from. When it comes down to it the material that it's constructed with matters more than you think. Leggings made from natural fibers like cotton holds on to sweat and soaks it all up making it a poor choice for intense cardio based workouts.  On the other hand, if you're planning on doing yoga or lifting weights, natural fibers are the ideal choice of legging material. 
Moisture-wicking fabrics like spandex are all the craze and rightly so. Spandex is a synthetic fabric that allows for unrestricted range of motion. It's breathable, wicks moisture and dries quickly. Performance leggings made from spandex is best for intense exercise. 
Get The Right Cut For Maximum Comfort
Like regular pair of pants, leggings are made in different lengths. Here are the different types of leggings cuts:
Capri - Capri style leggings are to hit under the knee leaving the rest of your leg exposed. If you want a pair of leggings that's not too constricting but provides more coverage than shorts this may be the right cut for you.
Boot Cut- Bootcut leggings fit snugly around the hips and thighs but flares out at the bottom. Boot cuts are commonly referred to as yoga pants. This style is casual enough for everyday wear.
Full Length - Full length or ankle length leggings are the most basic ones. They cover the entire length of the leg and they are versatile. 
Body Enhancing
Whatever type of leggings you choose should compliment your body and enhance your natural curves. Best Leggings Ever butt lifting leggings and booty scrunch leggings are popular because they shape and provide a lift to the butt. Our high waisted tummy control leggings can give you a seamless look. There's nothing hotter than a woman who works out and looks good doing it