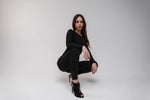 Anyone who tells you that wearing leggings as pants aren't fashion forward really isn't your friend. Leggings offer a special kind of comfort that is easily affordable for most people even if you're working with a limited budget. We're used to seeing them layered under dressings or casually combined with oversized sweaters but they can also be worn in lieu of jeans or traditional pants material.
A lot of women shy away from wearing leggings as a substitute for pants because they don't feel as if they have the body type for such a look. While thick thighs save lives, they can wear out the inner thigh area of leggings pretty quickly. If you have a small waist you may find that it's hard finding leggings that won't leave behind that gap in the waistband. Whatever your insecurities are when it comes to your body and wearing leggings it doesn't have to stand in the way of substituting this comfy material for pants.
For the Girl With A Slim Figure…
Believe it or not, women who are naturally thin are often insecure because of their slim frame. Some shy away from wearing leggings because they show off every crevice of your body. For women with a slim figure if you're interested in wearing leggings in lieu of pants you should opt for a body contouring leggings. Best Leggings Ever body contouring leggings hug your body in a special way. These contouring leggings accentuate what you're working with nature and visually enhances it. The butt lifting leggings, literally lifts your dierre making it appear fuller and rounder. You'll feel so sexy.
For the Curvy Girl…
If you're working with extra curves than it's important to find a pair of leggings that will flatter what you curve and help create a smooth appearance. At Best Leggings Ever we offer leggings with slimming features. These leggings work by smoothing out the tummy and thigh areas which is often a problem area for curvy women. These leggings are offered in XXL sizes as well as extended plus sizes.
The booty scrunch leggings is another type of legging material that can enhance your natural body. If you're not happy with the proportions of your butt, the booty scrunch leggings can balance that all out for you. They work by separating and the butt cheeks and giving the illusion of a wider and plumper appearance.
Yes, whatever your body insecurity is when it comes to wearing leggings, these days you can find a pair of leggings on the market that combats this issue.