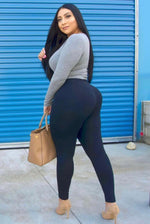 Yes, curvy women can wear and look great in leggings too. Often, society places limitations on what plus-sized women can wear. These days plus sized women are breaking boundaries, embracing their curves opening up they're fashion choices.
Leggings are something that can be worn, anyone. The plus size figure demands specifications for a smooth and seamless look. Here are some tips for looking great in your leggings.
Choose the ‍Right Fabric
Selecting leggings with quality and durable fabric is very important. Super thin and opaque leggings look cheap and they don't provide any support. Our V-shaped leggings are manufactured from thick material and features a tummy control band. These leggings provide the ultimate support and will smoothen out your body so that it appears leaner.
Wear the Right Undergarments
Leggings contour to the shape of the body. Since they are thinner than pants you can expect them to show every lump and bump. Printed leggings especially ones with busy design can sometimes make a plus-sized shaped body appear bigger than it really is. Wearing the right undergarments typically solve this issue. Neutral colored undergarments that supportive will camouflage body flaws in and give an overall smooth look.
Choose the Correct Size
Never size down when purchasing leggings. Some curvy girls believe that buying smaller leggings will make them look slimmer. It has the opposite effect. The squeezed in look can be very unflattering. Leggings that fit too snugly will create a stomach pooch. When it comes to selecting the correct size to be sure to give consideration to length. If your legging is too short considering hemming them or folding them at the bottom.
Accentuate One Area of the Body
Make sure you focus on enhancing one area of the body. Booty scrunch leggings will help lift the dierre enhancing what you have naturally. High waisted leggings aren't only comfortable but they provide ultra support.
Pair Leggings with Long Shirts
When wearing leggings outside the gym, as a general rule of thumb it's best to always combine them with a long shirt. Sporting a shirt that shows off the dierre in leggings can be considered a bit tacky. Whether you opt for a tunic, sweater or plain shirt selecting a top that covers your bottom makes your leggings appropriate for work and play.
Wear Them With Confidence
The final yet the most important tip is to wear your Best leggings ever with confidence. Believe it or not, confidence has so much power and it shines through your personal appearance. Be ultra comfortable in them.