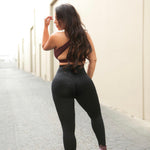 Love a good pair of leggings? Of course you do. A quality leggings are much better than pants. Unfortunately, in a search for a good quality leggings we often come across leggings that fall short. Poor quality leggings either sag or began pilling after wearing them. The perfect pair of leggings are durable, stretchy and can they fit perfectly to the shape of your body. Want to know whether Best Leggings are the best Leggings for you? Check out these reviews from our happy customers.
Mya - Transformed My Bottom Half
The booty scrunch leggings were literally a lifesaver. Unfortunately, I'm not well endowed in that area but these leggings gave me the perfect lift and it looks like a got a little booty back there!
Our booty scrunch leggings are specially designed to accentuate your bottom and give the illusion of a fuller and rounder butt.
Sarah J. -  Love the Slimming Effect
I just had a baby a couple of months ago and I've been feeling a bit self conscious about the stubborn belly fat left behind after my pregnancy. The v shaped leggings work just like shapewear and compressed my stomach to create a smooth look. I wear they when I'm running errands and to the gym because they give me confidence.
Karen - My Husband Loves Me In These
My husband loves when I wear these booty scrunch leggings. I can't lie I'm already working with a little something back there but these leggings takes things to another level. My butt looks so plump in them.
Tara - Needed A Plain Pair of Black Leggings
I needed a quality pair of black leggings that I could wear to the gym or even transition to brunch. They fit perfectly and they don't roll down while wearing them. I love them so much that I bought two more pairs.
Jennifer - Wore Them All Day
I was able to transition the original pair of leggings from running errands to wearing them for my shift at work. They are so comfy!
Tiffany - " They Make Me Look Slimmer"
I've gained about twenty pounds over the last few months. These V-shaped leggings are like shapewear they make my thighs and tummy look much slimmer.
From body contouring, tummy control or simply a pair of leggings that will fit any occasion we have it in stock. At Best Leggings Ever we offer leggings that are designed to address the needs of every woman's body type.