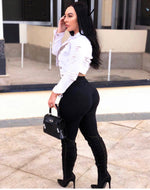 Valentine's day is right around the corner. One of the biggest aspect of this day and deciding what outfit you are going to wear. Whether you're going out for dinner with your significant other or popping champagne with your best friends you'll want to make sure you look your best. You can build your Valentine's day outfit right around a comfortable pair of leggings. How can you look sexy on this day without compromising comfort?
Try A Red Pair of Leggings
Just because it's Valentine's day doesn't mean you have to stick to skirts and dresses. A pair of Valentine's inspired leggings can be just what you need to stand out from the crowd and look sexy doing it. If you're feeling bold, purchase a pair of bright red solid leggings. You can pair it with an oversized chunky black sweater to balance out the look. For a more relaxed look, you can keep it simple with a  plain white or black t-shirt. If you're not comfortable wearing such a bold pair of leggings by itself you can also create a layered look by throwing a dress over it or slipping on a longline blazer.
Get Fun and Creative
Do you have a nice, chill movie night planned for you and your bae, or maybe just for yourself? A pair of cheesy, printed valentines day themed leggings can be a great way to get in the spirit. Purchasing a pair of leggings with kisses or hearts them are ultra cheesy but they're also super fun. If you're inviting your friends over for an Anti- Valentine's day bash consider copping them all a pair to wear for the night.
Valentine's day is all about looking sexy. Body contouring leggings can accentuate your god given curves. If you've decided to wear leggings on your date be sure to choose to select a butt-lifting legging. This type of body contouring legging will literally lift and round out your goods drawing your date's attention to your bottom. Best Leggings Ever butt lifting or booty scrunch leggings can help plump up your dierre so that you look sexy for your Valentine's day date.
Pair With Heels
If you're going out with your friends or on a date with someone special you'll want to pair your leggings with a pair of heels. Booties with a slight heel or even a pair of stiletto can really make your outfit come to life.
Jewelry Accents
Adding a pop of bling adds the finishing touches to your V-day outfit. Whether it's a gold bracelet, a statement piece necklace or even your favorite timepiece you'll need to add something to your outfit to bring it to life. Let's be honest, no outfit is complete without jewelry accents.
What will you be doing on the 14th? Whether you're looking at a comfortable night in with Chinese food or you'll be dining at a fine restaurant with your partner be sure to throw a pair our Best leggings ever  in the mix.